Important events of new production modernization Project
In 2006 AB Akmenes cementas has made a strong innovation step and decided to build new 4500 t/d dry process clinker production line. Project value seeks 350 mln. Litas.
Visualization of dry process production line: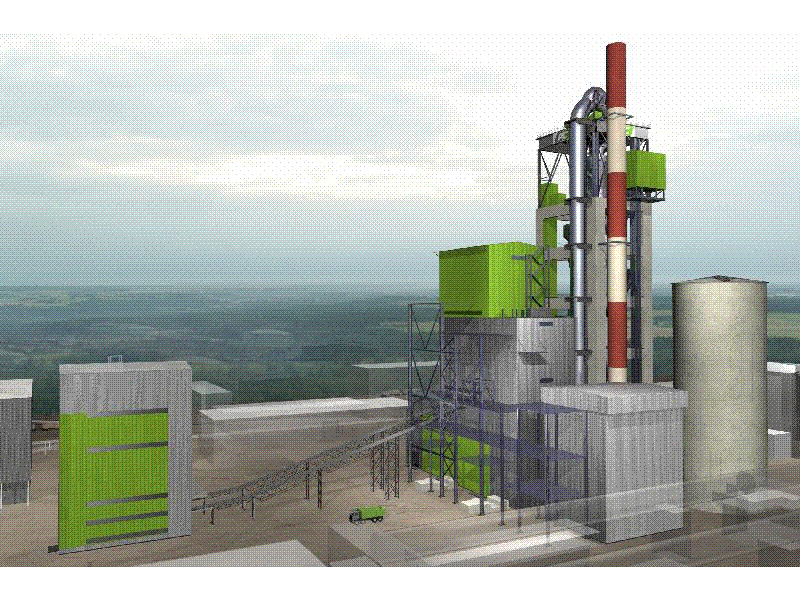 Switzerland company PEG S.A. has been chosen as a consultant for investment project In 2007. This company has a great experience in consultancy and engineering works.
First preparatory stage has been finished in 2008. Company has concluded contracts for equipment supply for new process line. Technological equipment has been supplied by 4 companies from Germany and Italy. Kiln, cooler, preheater have been supplied by company KHD Humbold Wedag (Germany), equipment for raw meal preparation – by Bedeschi (Italy), filters – by CTP team (Italy), electrical and automation equipment – by company Siemens AG (Germany).
In 2008 Akmenes cementas has concluded a contract with engineering and consultancy company Sweco Lietuva for preparation of Technical and Details Designs for new technological line.
AB Akmenes Cementas has signed a LTL 150 m value contract for construction and erection works of new technology line in 2011 spring. It is foreseen to finish civil works in 24 months.
Contract to manufacture and supply the rest of technological equipment (in total 4000 tons) has been concluded with Egyptian company Aresco in 2011 summer.
Construction and erection works of new technology line has been finished on 16th of October 2013.
New dry process clinker production line has started to operate in August 2014.
Construction progress of dry process clinker production line was being presented in short movie (please click on photo below).