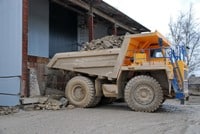 Depending on a physical state of raw mix, Portland cement clinker production is classified under the following technologies:
– If a raw mix is prepared as raw mix suspension in water – slurry – wet production technology is being used;
– If a raw mix is prepared as dump granules – semi-wet or semi-dry technology is being used;
– If a raw mix is prepared as dry powder  – dry technology is being used.- If the raw material mixture is prepared as a dry powder – a dry method technology is used.
Since 1952, cement in the company has been produced by the wet method. A decade ago, the Company decided to take the first decisive step – to install a new dry clinker production line, which was put into operation in August 2014.
Limestone used in the cement production is excavated in the nearby Karpėnai quarry and crushed by jaw and hammer crushers. Limestone from the crushing department is supplied by conveyors to the storage of raw materials, where also crushed clay is supplied. In the 36,000 t capacity storage, limestone and clay mixture, and crushed limestone for raw material mixture adjustment are stored.
The limestone and clay mixture and adjusting additives – sand and iron ore – are distributed by conveyors to respective bunkers. After that, dosed raw materials are supplied by conveyors to the crusher md the raw material mill, where the material is crushed to the required fineness and dried. The charge powder is fed into the ground and dried charge silo, from which it is lifted by the elevator into the cyclone heat exchanger. Hot material from the 4-stage cyclone heat exchanger with the integrated calcinator enters the kiln where at the temperature of 1450 °C clinker is formed. After cooling, clinker from the clinker cooler is supplied by the conveyor to the clinker silos. The clinker from the silos is transported to the cement mills.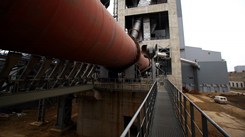 During grinding of clinker and gypsum in cement mills, cement is produced. Depending on the type of cement, granulated blast furnace slag, limestone, etc. may additionally be used in cement production.
Ground cement is stored in cement silos, from where it is loaded into railway cars or tank trucks, or packed into paper bags.
A more detailed description of the cement production technology and diagrams you can see here.